Happy birthday to my son, who is 9 today.
Nico throws a "biscuit" over a glass barrier
to a waiting crocodile.
Yesterday we went to the Brookfield Zoo. I've written about the Zoo's true commitment to inclusion here, and will have another piece on them next month in Chicago Special Parent.
We bought a "backstage adventure" package for Nico. He doesn't really like parties, certainly not in typical party places or in his house, so we have generally spent money on doing expensive family things rather than throwing him party. The backstage adventure was at "The Swamp," and we got to see the cages where various beasts live, feed some, and otherwise go behind the scenes.
We prepped the zoo by saying that Nico might be afraid of things you wouldn't predict, and generally gets a little stressed out by new environments. He'll want to go through The Swamp like he always does (indeed, we got to the zoo an hour early, so he could have some normal zoo time before we tried to shift routine), and may resist. If we're all just patient and flexible, I told the zoo, it'll be fine. As always, the zoo staff responded, "No problem." And of course they know Nico from summer camp (see the link above), so were ready.
The lovely zookeeper, Mark, took us behind the scenes. Here's the results: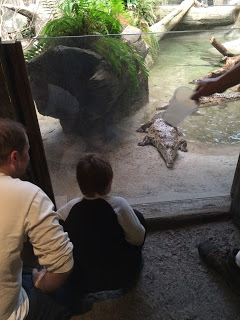 Nico crouches to watch the croc eat.
1. Nico was afraid of the big turtle.
2. Nico was afraid of the small lizard.
3. Nico liked the feeder fish that are kept around to feed the water snakes.
4. Nico liked the tiny turtles and was willing to pet some.

5. Nico helped me feed two little fish through the cage to an adorable (and maybe pregnant!) otter, Charlotte. And then the gnashing of teeth became too much for him and he backed off to sit on his mom, but still watched.
6. Nico was totally mellow about throwing biscuits to the crocodiles. They don't scare him none. In fact, he really wanted to stick his whole arm over the glass barrier to drop the biscuits right into the crocs' mouths (there were three).
7. He liked watching the zookeeper throw fish bits to the piranhas.
Which is just to say, you never know. More crocs, fewer lizards next time!
I always say: inclusion is not same-ness. The Zoo, in general, and the zookeeper Mark, got that just right yesterday.
Happy Birthday to Nico …