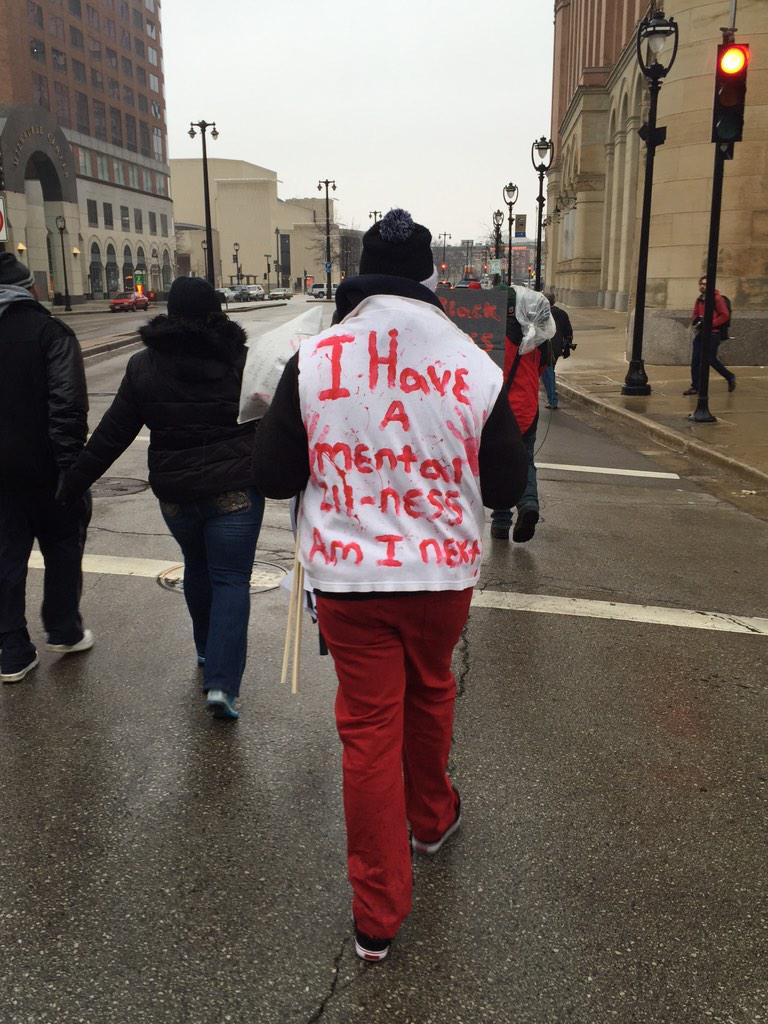 Picture by @deray on Twitter. Used with permission.
"I have a mental illness. Am I next"
Today news broke that the Milwaukee Country D.A. will not be charging a police officer who killed Dontre Hamilton. Hamilton was black, unarmed, and had psychiatric disabilities.
Hamilton was sleeping in a courtyard/park near a Starbucks, when Officer Christopher Manney came to search him. A struggle ensued and Manney eventually drew his firearm and shot Hamilton 14 times, killing him.
The case, of course, mirrors other cases in which law enforcement killed unarmed black men and were not charged. Manney was fired for not following procedure. The D.A. announced, however:
"This was a tragic incident for the Hamilton family and for the community," Chisholm wrote in his report. "But, based on all the evidence and analysis presented in this report, I come to the conclusion that Officer Manney's use of force in this incident was justified self-defense and that defense cannot be reasonably overcome to establish a basis to charge Officer Manney with a crime."
This is a fairly typical outcome. By the time the officer pulls his weapon, a lethal use of force is almost unavoidable. The laws protect police who have any kind of reasonable assumption of threat, even if they created the conditions that led to the threat.
I'm especially struck, though, by Manney's comments, as reported earlier this year on
BuzzFeed
.
In his memo, Manney wrote that Hamilton had a "muscular build" and "most definitely would have overpowered … me or pretty much any officer I can think of, to tell you the truth. He was just that big, that muscular … I would say he would be impossible to control if you were one-man."
Manney also described Hamilton as being "considerably younger than me, in much better shape than me, and much stronger and more muscular than me."
But the autopsy results do not support Manney's description. In the report, the medical examiner said that at the time of his death, Hamilton was a 169-pound, 5-foot-7 "well developed, overweight … adult-black male."
This invokes, of course, the testimony of Darren Wilson and his description of the demonic visage of Michael Brown. It does seem that far too many police engage with black men with a built in fear, then respond to the perception of threat with quick escalation.
And then there's the disability issue. As I've written before, when disability and racial prejudice intersect, it's terrible dangerous. Hamilton is just the victim in the news today.
There will be someone else tomorrow, or next week, or soon anyway.
It's got to stop.