Earlier this week, the ACLU and Disability Rights South Carolina announced they are suin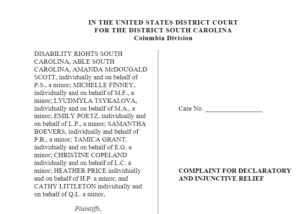 g the state over a law that bans school districts from requiring masks. Read the press release here. Read the complaint here.
****
Yesterday, The Nation published my article on the core argument here, as expressed by two earlier lawsuits, one in Florida and the other in Texas. We're going to see a lot of these lawsuits in mask mandate banning states over the next week, as well as this argument brought into 504 meetings (more on that in a later post) and IEP meetings. Here's the gist:
Ruth Colker, a law professor at Ohio State University, explained that the core of the argument is that during the Covid-19 pandemic, "a mask is a ramp." In other words, the same legal authority that requires schools to have ramps can make schools compel people to wear masks. Colker said she loves the approach because it allows for structural action, rather than trying to fix things for just one child at a time. A more potent analogy, she suggested, was peanuts. If there's a child with a peanut allergy, the school district needs to impose a structural accommodation barring peanuts from the building in order to keep the particles of the allergen out of the air. It's not enough to make sure the allergic child doesn't have any peanuts in their food. "Peanut particles are a bit like Covid," she said, and is "an analogy people can grasp." Plus, she added, "it is easier to enforce a mask mandate than a no peanut policy. Just hand out the masks. [It's] hard to know where peanuts may be hidden."
Please note that masking is insufficient to make school safe during Covid for many kids; we need to maintain remote options. In fact, without remote options, education has gotten less accessible this year than it was last year. More on that another post too. But let's look at how this unfolded.
As near as I can tell, the Florida lawsuit came first, early in August. There's a hearing today before a judge and so we may get more news on that later this week. It's been led by Matthew Dietz, an attorney I've talked to before, so I called him up and asked him whether this was a new argument. He said, "I try not to do new arguments because new arguments usually lose. This is the oldest ADA argument that there is. Kids need to go to school. They are entitled to a reasonable accommodation. It's not an undue burden at all for somebody else to wear a mask. This is an argument that's 40 years old."
Then last week, Disability Rights Texas filed a similar lawsuit and, critically, Secretary Cardona made a blog post in which he talked about civil rights laws as a tool to enforce the right to mandate masks and otherwise keep schools safe.
Around the same time, President Biden sent a memo to the Department of Education instructing them to defend the civil rights of students as it pertains to Covid-19 risk, then the New York Times published the results of an interview with Education Secretary Miguel Cardona, in which the secretary made it clear he was exploring how to use civil rights law to stop governors from banning mask mandates (sadly, Cardona used an ableist metaphor. Sigh). Then Cardona published a blog post in which he made the relevance of Section 504 more clear (there's also a racial justice civil rights issue here in the "disproportionate impact" standard, but that's not what these specific lawsuits are about).
Now the ACLU has gotten involved.
I called Susan Mizner, director of the ACLU's Disability Rights Program to  ask how this lawsuit came together and what's the connection to the similar cases in Florida and Texas. She said, "It's such a clear disability rights violation most disability rights lawyers see it – it's just there are not a lot of us, and we are all already stretched thin." People were "banging down the door," asking her division for help and so it's a question of how to assemble resources, and of course she's checked in with the other attorneys. "The claims are pretty straightforward.," she said, "with a little difference in emphasis with each one. Matt is emphasizing FAPE and anticipating the state will say "just have your education at home." Disability Right Texas is emphasizing the reasonable accommodation regulation,  where [a student] needs a reasonable accommodation [the school] has to provide it. Our emphasis is the simple exclusion argument – that by removing the option to require masking from schools, you are per se violating the ADA and Rehabilitation Act. There's no question that [a school] knows or should know that there are students with underlying disabilities that will make them much more vulnerable to severe illness from Covid," and so by not masking, "You are excluding these students from public education. We're just going with the really simple [argument]: this is a straight up discrimination exclusion case."
I expect to see a lot more lawsuits following these findings, or rulings that other states and organizations pick up without distinct lawsuits, and will keep on the story. I am especially eager to see this legal argument (using the ADA solely instead of 504 + ADA) applied to other kinds of venues too.
***
Keep this post free and open to the public by subscribing for just 2$ a month or $22 a year! Thank you!
***
[Image description: A screenshot of the lawsuit in question, showing in the US District Court of South Carolina and a very long list of plaintiffs]