HOW TO MAKE SHRIMP RISOTTO IN JUST 13 EASY STEPS!
1) sautee the shallot and fennel in olive oil and butter and salt until nice and soft. Clean the shrimp while you wait. Also make dinner for the kids and pour some whiskey. Put a box of pre-bought seafood stock [DO NOT JUDGE ME] on to warm up.
2) Throw in some garlic. Mmmm, smells like garlic. It takes a minute.
3) pour in the rice and stir it until it sounds like you've got rocks in there. That means it's absorbed the oil. Probably 2 minutes but I lost track of time because we were decorating for Halloween. Anyway, it sounds crunchy.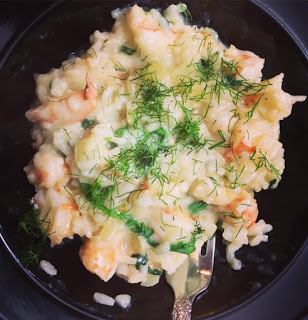 Description: A bowl of risotto, shrimp, and fennel in a black bowl.
4) Add, I dunno, a cup of wine per cup of rice. Cook down. Stir a lot.. shrimp and save the shells and tails, then put on with some water to serve as shrimpy backup. You should have done this yesterday and made actual shrimp stock, but you don't have a time machine, so it is what it is. Don't use too big a pan as you'll just need a few cups and want to get shrimp flavor in fast.
5) Figure out what the kids are eating cause they ain't eating this.
6) Hey my wife bought a nice Italian cheese. I should eat some of that.
7) Add the seafood stock a few ladles at the time. Stir regularly. Not too regularly. Keep cleaning shrimp. Eat more cheese. Drink whiskey.
8) When the seafood stock runs out, use some of the shrimpy water.
9) When it's almost done, add some lemon juice, black pepper, and salt. Taste a lot. Have my wife taste too as her palate is better than mine.
10) Then throw in arugula and stir until it wilts. Chop the shrimp. Toss in a bit more shrimp water.
11) Check with wife if we are adding parmigiana even though it's shrimp. We are. Parm adds depth and salt. We're not actually Italian. Add parm.
12) Add chopped shrimp and cook until just done, maybe 2-3 minutes.
13) Then serve and top with fennel fronds.