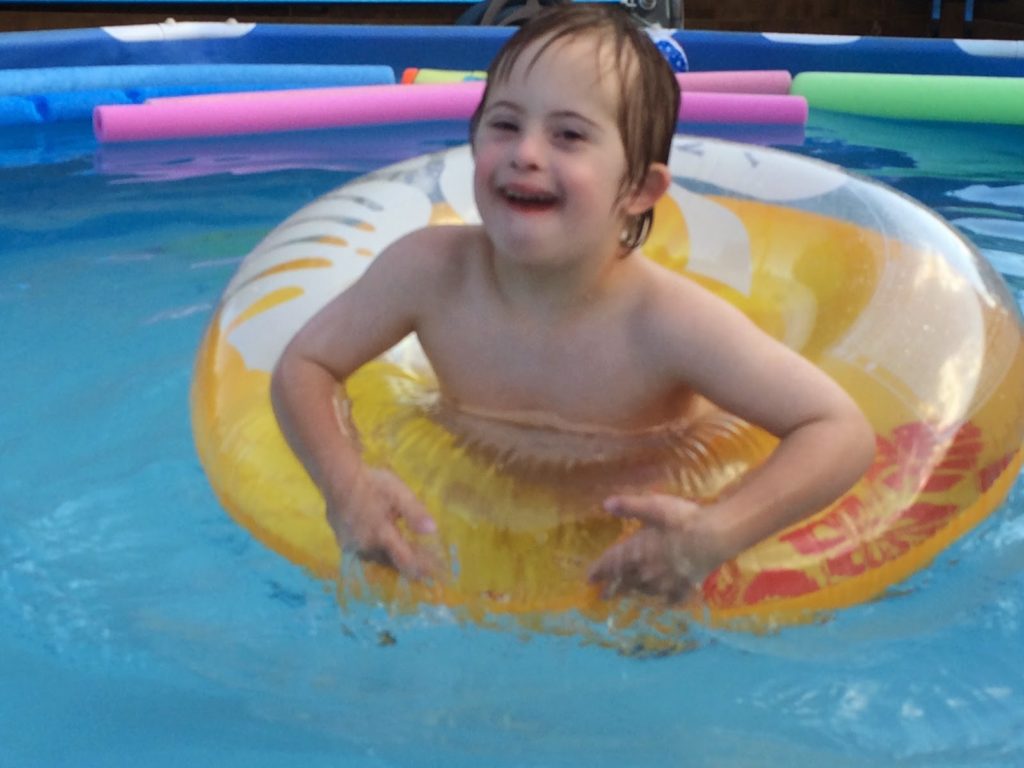 Nico in a swimming pool, holding onto a tube, swimming and laughing.
This is my son swimming at a party this summer. He's never happier than when he's in the pool, using his body, feeling the water, playing and filled with joy. So, finally, my wife and I signed him up for swimming lessons with a special needs recreational association in our community. It's been going great, until last night. But there are some lessons to learn here.
Here's the letter I wrote to the program director last night.
Dear _______,

I am writing to express my deep frustration and anger at today's swim lessons for Nico. I will first explain what transpired, then the problems, then my request for some solutions.

Nico has been working with L. L and Nico established instant rapport and have been going back and forth – stomach, then back, stomach, then back, since the first lesson. I was really happy about the way they worked together, but I did ask about progress towards getting the back of his head in the water and getting him to blow bubbles. The woman from SEASPAR who observes the lessons got in the pool at the end of the last session to offer some suggestions, they didn't really work, but Nico was happy to work with L. a little at the end of last session.

Today when I arrived L went to work with another boy, and E took Nico. Nico was baffled, upset, and frightened. It took a few minutes to get him in the water and he complained. I also asked E to concentrate on Nico's stomach – he does better with consistent effort rather than swapping back and forth. E replied that he needed to do both sides for safety, and I suggested maybe 3/4ths stomach – we would really like Nico to swim.

It didn't go well. Nico did a little kicking on his stomach and a few bubbles, then after a few minutes, she switched him to his back. And kept him on his back for about 20 minutes without a break. She never took him to a wall to rest. Meanwhile, Nico screamed. He screamed the scream he gives out when he's getting his blood drawn. It's his absolute fright and unhappy scream. She would ask him to do something and he would say, "no." She ignored him. Then he'd go back to screaming. At the end, she let him be on his stomach for a few more minutes and he calmed down.

1. A child with severe communication delays cannot be surprised like this. I spent the previous 30 minutes talking about L, preparing him for L, and he was ready for L. If the swimming staff feels the need to make a switch, it is reasonable to expect that they will communicate that with the parents. If they do not understand the complexities of working with children with communication delays, kids who often rely heavily on patterns and consistency to make their way through the world, it is reasonable to expect that they become educated in best practices.

2. If L, or anyone, would like more or less engagement with the parents (L had previously said my engagement was fine), I expect them to contact me and talk about the issues. As a parent, my job is to advocate for my child – but I am always interested in dialogue. I just need to know there's a plan.

3. Nico loves swimming. His love for swimming provides a pathway to teach him to swim, with gentle and creative pressure to get him to learn to swim properly and safely. More lessons like this will turn it into something terrifying. I will not allow that to happen.

I eagerly await your communication explaining first what happened yesterday and second what's going to be done differently. I'd like to know what experience the instructors have with children with Down syndrome and what strategies they plan to use to help him swim. I know that they are not specialists for children with special needs, but something has to change.

Terrifying him and forcing him is NOT an acceptable strategy. And it's totally not necessary.

Sincerely,
So the special rec group contracts with a swimming lessons firm to provide one-on-one instruction. They are not experts in special needs. But the special rec group is, and I hold them responsible for hiring people who can do the job, and educating people to do the job if they aren't prepared already.
Nico was having a good time with L, but I really wanted a sense of what the plan was, and perhaps somehow this bothered L. She's youngish, as parents we can get uptight, and if I bothered her (or if the special need recreational association rep who jumped in the pool and tried to help Nico learn to put the back of his head in the water bothered her), then I regret that. But L is an adult and can say so, either directly to me or through her supervisor.
Here's the big thing. Children with special needs often CLING to consistency. Sometimes we have to shake them out of that, always we need to prep for something new, What we can't do is spring changes on them. Nico could see L right there in the pool, working with someone new. He does not have the communication ability to understand why this is happening. Moreover, no one made any attempt to explain to him or to me why this was happening.
During the lesson, I tried to engage at various points, when I wasn't shaking with rage at being so ignored (but it's not about me, so I mostly just walked away). E went out of her way to avoid eye contact. I almost stopped the lesson, but I didn't. This can happen once. It just can't happen repeatedly.
I am furious. Nico is fine. He came out of the pool pretty happy and I expect him to go back in happily next week. But if this happens repeatedly, it could easily become something scary, rather than joyous.
And I Will. Not. Let. That. Happen.
Update: Apparently "E" is the head of the whole program that my special ed rec folks contract with.
Update: 55 minute conversation with the head of the special rec organization about building dialogue among all parties in the future. I am optimistic that there will be both patience and creativity applied to working with Nico.