Borshch with Sauerkraut from the declassified CIA files of a translated 1948 Soviet Army Cooking Manual – by Shannon Perry


SEE THE FULL STORY AT PACIFIC STANDARD!
This recipe was made based on the information from the book when clear or using my instincts when it was not clear at all. For example, the instructions fail to tell you which culinary herbs to add so we used parsley and dill because that would fit the soup. Likewise, it calls for adding tomato paste but doesn't specify how much, so we guessed. Our soup turned out delicious and we regret nothing.
Part One: The Bouillon
This step is entirely unnecessary. Skip to Part Two if you're mostly rational and have stock. We did not notice any reason to follow this instruction over using store bought or homemade stock you have on hand. But homemade stock is better.
The instructions start with a step for boiling meat, with or without bones, for 2.5-3 hours to produce something translated as "bouillon". They do this bouillon as the base of all the soups near as we can tell. If you really care, we put 2.5 pounds of beef soup bones in about 3 quarts of water and put it on low over night in a 5 qt. slow cooker. The soup bones, in this case shank slices were cut in half, so the marrow is exposed, and all melted into the bouillon.
In the morning the meat and bones were removed from the water and the meat set aside to chop and add back to the soup later. The bones were then put back in the cooker with more water and put on high for another couple of hours. All bouillon was used in the soup eventually, and we added more store-bought stock and some water. Some of the liquid may have evaporated faster than otherwise as the air up here in Minnesota sucks all moisture away.
Part Two: The Borshch
Ingredients:
| | |
| --- | --- |
| 3 TBS | Oil or tallow |
| 400 grams | Diced and peeled raw beets |
| 60 grams | Diced carrots |
| 40 grams | Diced onion |
| 2 TBS | Tomato paste |
| 600 grams | Prepared sauerkraut |
| 4-5 quarts | Beef or Chicken Stock |
|   |   |
| 600 grams | Diced and peeled potato |
| ½ to ¾ lb. | Finely minced beef (optional) |
|   |   |
| 1 TBS | Oil |
| 2 TBS | All-purpose flour |
| 1 TBS | Chopped, fresh dill |
| 1 TBS | Chopped, fresh parsley |
| 2 | Bay (laurel) leaves |
| To taste | Salt and Pepper |
| 3 TBS | White wine vinegar (optional) |
Instructions:
1)      Make a large fire and get a good bed of coals ready for cooking on. If using a stove and being modern, omit this step.
2)      In a large stock pot, sauté the carrots and onions in oil for two minutes. Add beets and tomato paste, continue for 3 more minutes.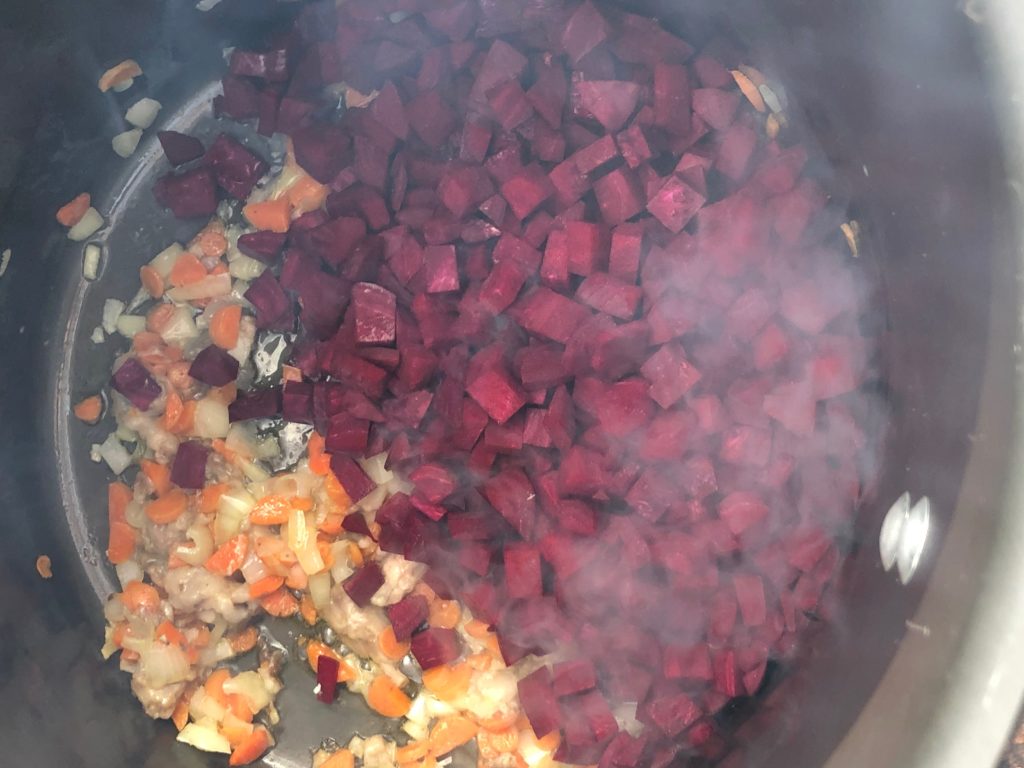 3)      Add 4 quarts stock and sauerkraut with juice to pot and stew over medium heat for 35 minutes. Stir occasionally so the bottom doesn't burn. This may take some effort over the fire if you are doing this outside in winter in 4F weather.
4)      Check liquid level and add potatoes to the stock pot. You may need to add additional stock depending on preference. Make sure there is enough to at least cover the potatoes, so they cook properly. Let simmer for 15 minutes. If you are adding the meat do so now.
5)      While potatoes are softening, in a separate small pan heat oil. Sauté the fresh herbs for 30 seconds and then add the flour for another minute. Add this mixture as well as the bay leaves to the soup. Cook for another 10 minutes.
6)      Set to side of coals at this time. Add salt and pepper to taste. You may want to add additional vinegar if the sauerkraut wasn't sour enough. Let stand for 15 minutes covered.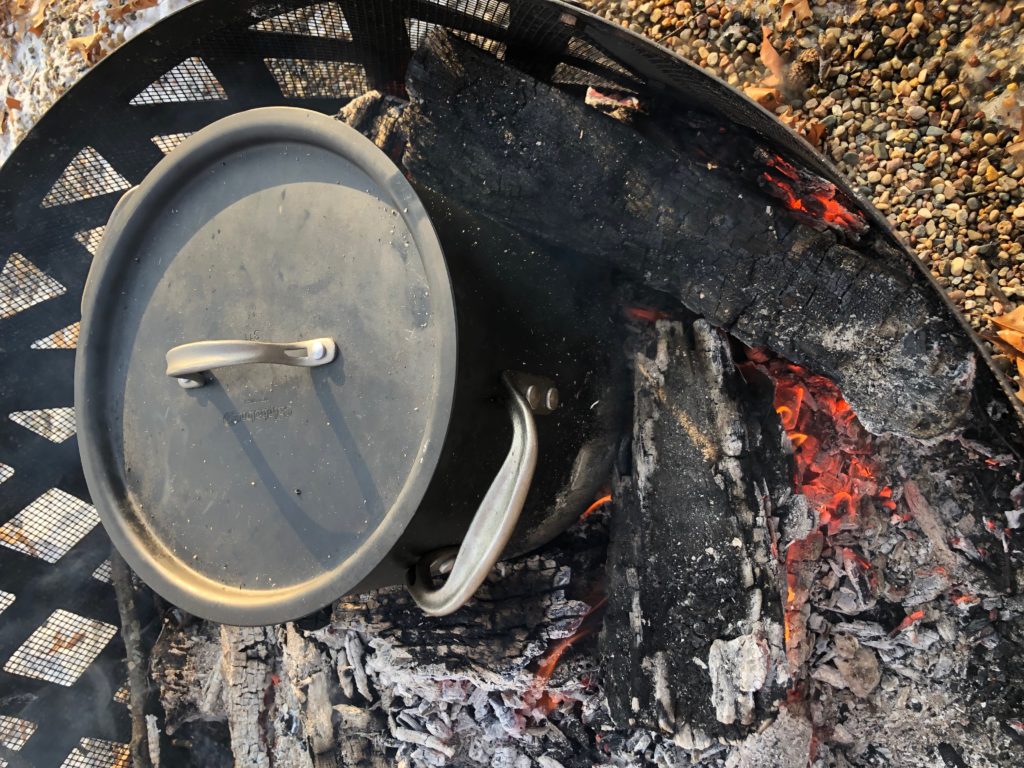 Serve with sour cream and fresh dill on each bowl.